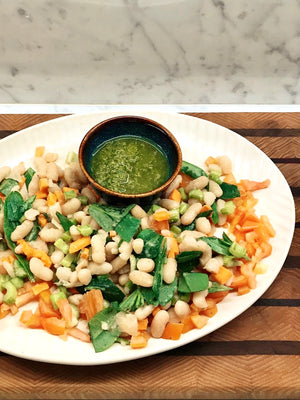 An Ode to the Cordillera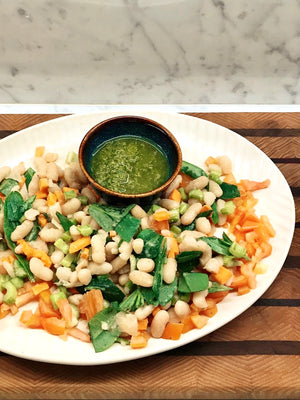 Cordillera White Bean Salad with Talinum 
White beans, 500g
Talinum, half a bunch plucked from stem
Carrot, 1 diced 
Celery sticks, 2 chopped
Tomatoes, 2 quartered & de-seeded
Apple or coconut cider vinegar, 1 tbsp
White wine vinegar, 2 tsp
Olive or coconut oil, 3 tbsp
Cumin & coriander powder mixed, 1 tbsp 
Salt, adjust to taste 
An ode to one of our favorite places on earth. Soak the white beans overnight. Rinse the next day and cook until tender. Mix the beans, talinum, carrot, and celery into a bowl. Season with 1 tbsp of cumin & coriander powder. Mix and let it sit for an hour. Season the tomato with salt and apple/coconut cider + white wine vinegar.  
Green Goddess Dressing
Coriander, 1 bunch
Garlic, 2 cloves
Olive oil, 5 tbsp
Cumin & coriander powder mixed, 1 tsp 
Lemon juice, 2 tbsp
Salt, 1/2 tsp
Mix ingredients in a food processor or blender for your dressing. Adjust seasoning to taste and serve with salad.