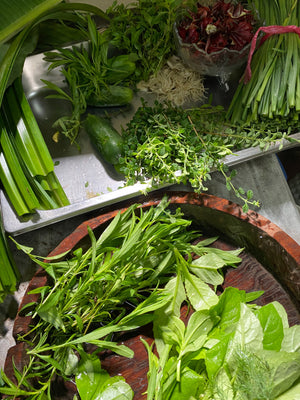 Salads: Filipino Flair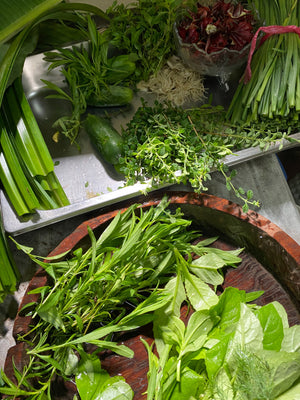 Tired of plain old lettuce and tomato? Yeah, we thought so. Here are some of our favorite salad combinations celebrating Filipino flavors!
Glass Noodle Salad
Soak local bihon rice noodles in boiling water until soft. Drain and place in cool running water for a bit. Shred some roast chicken, steamed chicken, or chicken adobo to match. Chop coriander and mint, then mix into noodles. Add some greens like talinum, romaine, and amaranth. Finally, top your creation with your choice of shredded meat (it works with shrimp too!) and serve with a dressing of patis (fish sauce), lime, sugar, and small green chilis. 
Chilled Kulitis & Ampalaya Salad
Blanch greens like kulitis (wild spinach) and sliced ampalaya (bitter gourd) by placing in boiling water for 1 minute and then transferring to a bowl of cold water. Chill in the fridge for 15 to 20 minutes. Top it off with small chunks of cucumber, cherry tomatoes, and thinly sliced red onion. Try with a dressing of patis and calamansi, or a vegan dressing of your choice.