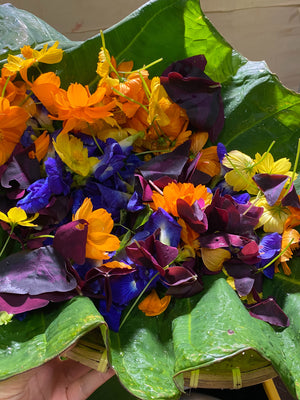 Salads: Flower Power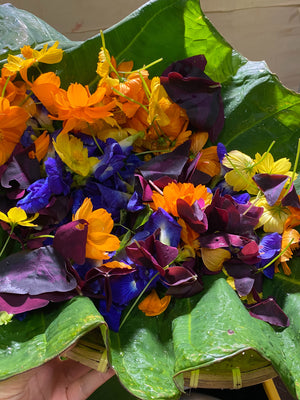 Celebrating the joy and color of edible flowers.
Alugbati & Butterfly Pea Salad
Pluck the leaves off the stems. Toss with dressing of your choice and feel free to add other delights like talinum, pipino (wild cucumber), and other edible flowers. 
Talinum & Oxalis Salad
Pluck the talinum leaves off the stems and serve with purple oxalis leaves (the ones that look like butterflies 🦋). Toss in other available produce like cherry tomatoes, pipino, and more edible flowers. Finish off with your favorite dressing. 
Dressing idea: Turmeric Vinaigrette by Chef Asha Peri
Virgin coconut oil, 2 tbsp
Vinegar or lemon, 1 tbsp
Coconut nectar or sugar, 1 tbsp
Fresh chopped turmeric, 1/2 tbsp
Minced garlic or shallot, 2 small pieces
Salt or coconut aminos, 1/2 tbsp
Black pepper, 1/8 tbsp
Talinum & Cucumber Salad
Pluck the talinum leaves off the stems. Toss in sliced cucumber and your favorite edible flowers. Drizzle with some delicious Sunshine Dressing, which is tart and savory -- tastes familiar and surprising at the same time!  
Calamansi, 3 pcs 
Patis, 1/2 teaspoon
Cashew vinegar (or vinegar of your choice), 1/2 teaspoon
Half a garlic clove, finely chopped
Half a small red onion, finely chopped
Pinch of black pepper