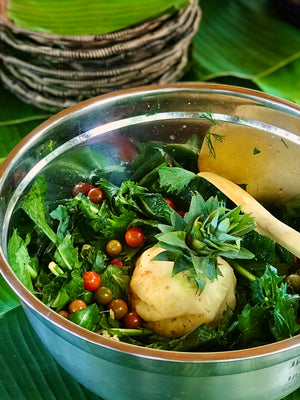 Salads: Playful Pineapple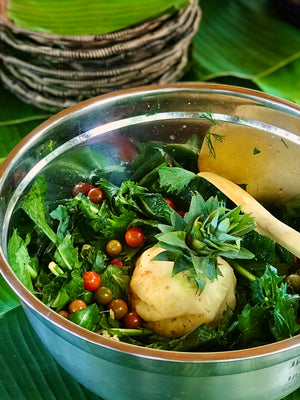 Some creative and playful salads starring one of our favorite fruits: pineapple! 
Roasted Pineapple Salad
Peel & slice pineapple into rounds. Roast until pineapple is slightly browned, and serve with greens like talinum, kale, and ashitaba. For dressing, you can simply use the juice of the pineapple and add a squeeze of something citrusy, like lemon or dalandan. 
Chilled Pineapple Salad
Chop pineapple into small to medium pieces. Pair with some sliced cucumber, and sprinkle in some baby wild cucumber, cherry tomatoes, and butterfly pea flowers. Try with fresh mint, dill, or tarragon to brighten. Serve with any dressing or simply a touch of sea salt.